Heat likely to increase, Monsoon will arrive late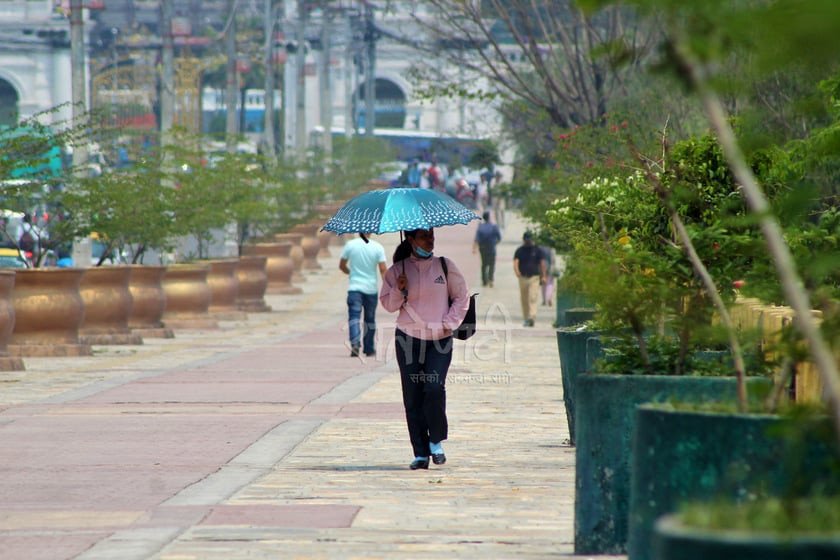 KATHMANDU, June 1: The heat is going to increase all over the country, including Kathmandu. The possibility of heat increasing is even more, as this year's monsoon will arrive late.
Department of Hydrology and Meteorology, Forecasting Division's Meteorologist, Pratibha Manandhar stated that the weather may be cloudy in western hilly areas, as the influence of western wind and local wind will be less in that area.
"There is no possibility of monsoon arriving in time this year. The monsoon has not started in India yet. Monsoon won't arrive in Nepal if it doesn't arrive in India," she explained, "Without rain clouds, the heat will increase automatically. This will further increase the current temperature."
Life affected in Terai
The heat has started increasing in Terai due to the diminished effects of western wind and pre-monsoon. In addition to the heat affecting academic activities, it has also increased the suffering of workers who work outside. The heat has increased excessively in Bhairahawa, Nepalgunj, Simara, Janakpur, Biratnagar, Dhangadi and other areas of Tarai at present.
This year's monsoon will arrive in the first week of Ashad
The monsoon arrives on June 13 every year in Nepal. So the monsoon should start on the 30th of Jestha. However, the monsoon might arrive on the first week of Ashad this year, according to meteorologist Manandhar.
It has been estimated that it will rain less in this year's monsoon. As a result, farmers might be affected.