Province govts introduce budgets, here are highlights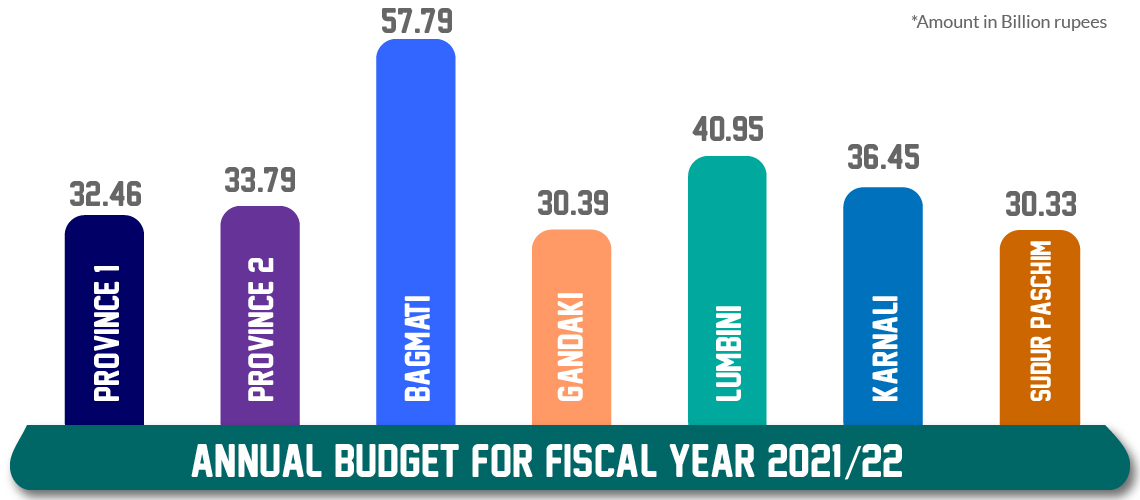 KATHMANDU, June 15: Provincial governments in all seven provinces, on Tuesday, tabled the annual budgets for the upcoming fiscal year 2021/22.
As per the Intergovernmental Fiscal Arrangement Act-2017, the province governments are required to present the annual budget on Ashar 1 (Mid-June).
Here are the major highlights of the budget presented by the respective province governments across the country.
Province 1
Presented by : Tank Angbuhang, Minister for Economic Affairs and Planning
Budget Size: Rs 32.469 billion
Concurrent Expenditure: Rs 14.161 billion
Revenue Mobilization: Rs 4.097 billion
Major programs:
> Residence and physical infrastructure development: Rs 13.21 billion
> Chief Minister Rural Roads Project
> Ghinaghat-Birat Chowk Road under Provincial Pride Project
> Health sector: Rs 3.25 billion
> Education Sector: Rs 1.18 billion
> Chief Minister Youth Entrepreneurship Program: Rs 100 million
> Mero Krishi, Mero Gaurav (My Agriculture, My Pride) Rs 50.72 million
> Energy and Irrigation: Rs 3.15 billion
> A 10-day tourism leave to civil servants
Province 2
Presented by: Bijaya Kumar Yadav, Minister for Economic Affairs and Planning
Size: Rs 33.791 billion
Recurrent Expenditure: Rs 15.63 billion
Capital Expenditure: Rs 18.5 billion
Financing: Rs 58 million
Major programs:
> COVID-19 control, prevention and treatment : Rs 200 million
> Oxygen plant installation and oxygen cylinder procurement
> Irrigation Project: Rs 410 million
> Procurement of 35 dialysis machines: Rs 120 million
Bagmati Province
Presented By: Kailash Prasad Dhungel, Minister for Economic Affairs and Planning
Size: Rs 57.729 billion
Recurrent expenditure: Rs 26.166 billion
Capital expenditure: Rs 29.704 billion
Financial management: Rs 2 billion
Major programs:
> One school, one nurse : Rs 260 million
> Chief Minister People's Health Check up Program : Rs 220 million
Gandaki
Presented by: Krishna Chandra Nepali Pokharel, Chief Minister
Size: Rs 30.394 billion
Recurrent expenditure: Rs 13.6 billion
Capital Expenditure: Rs 16.73 billion
Financial Management: Rs 240 million
Major programs:
> Rs 50,000 as compensation to the families of those dying of COVID-19
> Rs 5,000 monthly allowance to those children who lost their parents due to COVID-19
> Multi-sectoral Nutrition Program : Rs 15 million
> District hospitals to be upgraded to 25 to 50-bed
> Rs 10 million to be provided to each local level for province-local level partnership program
> 2 to 5-bed ICU to be set up at every district hospital
> Madhyabindu Hospital (Nawalpur), Damauli Hospital (Tanahun), Dhaulagiri Hospital (Baglung), and Bhirkot Hospital (Parbat) to be upgraded to trauma centers
> Gorkha-based Aanp Pipal Hospital to be upgraded to 50-bed
Lumbini
Presented by: Baijnath Chaudhary, Minister for Economic Affairs and Planning
Size: Rs 40.951 billion
Recurrent expenditure: Rs 24.93 billion
Capital expenditure: Rs 21.17 billion
Major programs
> Priority on COVID-19 control , agriculture and employment
> Free treatment of COVID-19 patients
> Lumbini Provincial Hospital to be upgraded to highly specialized equipped hospital : Rs 250 million
> Oxygen plants to be installed at every district-level hospitals
> Coordination with four private medical colleges --- Universal Medical College, Nepalgunj Medical College, Lumbini Medical College and Devdaha Medical College for the treatment of corona patients
> Health workers to be provided 50 percent allowance of their basic salary
> Agriculture technician to be deployed in every wards: Rs 330 million
> One Level, One Smart Agriculture Village Program: Rs 350 million
> Contract Farming Program to be extended to 1,200 hectares
> Mini labs to be established in every districts for soil testing
Karnali Province
Presented by: Gopal Sharma, Minister for Economic Affairs and Planning
Size: Rs 36.456 billion
Recurrent expenditure: Rs 11.49 billion
Capital expenditure: Rs 21.65 billion
Financing: Rs 3.99 billion
Sudur Paschim Province
Presented By: Prakash Bahadur Shah, Minister for Economic Affairs and Planning
Size: Rs 30.33 billion
Recurrent expenditure: Rs 10.66 billion
Capital expenditure: 17.65 billion
Financial management: Rs 300 million
Major programs:
> DPR development of Naugad, Sunarya Gad and Upper Sunarya Gad Hydro Projects
> Physical Infrastructure Development Ministry: Rs 11.75 billion
> Horticulture development: Rs 100 million
> Agriculture Student Program: Rs 40 million
> Health Sector: Rs 2.42 billion
> Access to COVID-19 vaccines and upgradation of COVID-19 labs
> Programs such as Our Province, Healthy Province, Chief Minister Senior Citizen Health Service
> Trauma center to be set up at Seti Provincial Hospital, Epidemiology Hospital at Seti Hospital