Top-level discussions being held at Baluwatar
PM Prachanda preparing for Cabinet completion within 1 to 2 days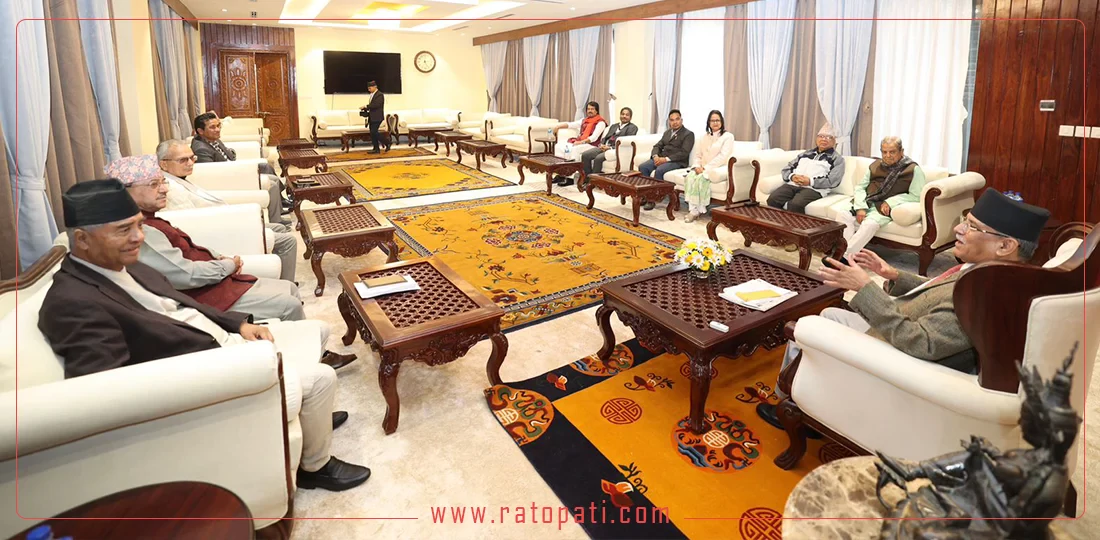 KATHMANDU, March 23: Prime Minister Pushpa Kamal Dahal 'Prachanda' is to hold consultations at the top level on Thursday for reorganizing the Cabinet. PM Prachanda is going to consult with the top leaders regarding this matter in the evening today at the Prime Minister's residence, Baluwatar.
On Wednesday as well, PM Prachanda discussed with Nepali Congress President Sher Bahadur Deuba, CPN Unified Socialist Party Chairman Madhav Kumar Nepal and other leaders of parties in the alliance including Janata Samajbadi Party (JSP).
A member of the Prime Minister's Secretariat claimed that the Cabinet will be completed within the next 1 or 2 days. After the Nepali Congress, Unified Socialist Party, JSP and Janamat Party entered the government, the discussion between the top leaders is continuing.
Three parties, Congress, Maoist and Unified Socialist Party, have claimed the influential ministries. There is a possibility that Congress will take over the Ministry of Finance. But Maoists, Congress and United Socialists all have claimed the Home Ministry.
However, the sources in the Prime Minister's Secretariat informed that after Prime Minister Prachanda has taken a stand that he will keep the Home Ministry, the Congress and the Unified Socialists have not been able to put much pressure.
If the Maoists take the Home Ministry, Physical Infrastructure Minister Narayankaji Shrestha, Deputy General Secretary Shakti Bahadur Basnet, central member Mahendra Bahadur Shahi and Purna Bahadur Gharti are seen as the contenders.