NCC delegation congratulates President Paudel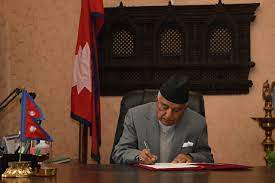 KATHMANDU, March 23: A delegation of the Nepal Chamber of Commerce congratulated President Ramchandra Paudel and extended best wishes for his successful tenure.
The delegation comprising NCC Chair Rajendra Malla reached the Sheetal Niwas today and congratulated President Paudel.
On the occasion, President Paudel said the present condition of the country has worried him.
Stating that all should carry out responsibility from their respective places keeping the current economic condition in mind, he opined the government and private sector should join hands to resolve the economic crisis.
The President emphasized the need of building a self-dependent economy by increasing production and creating employment in the country.
Similarly, NCC Chair Malla said they are confident that the President would show the path for economic development and prosperity.