"I won't refuse if UML wants me to contest in the election"
"I am influenced by Oli's personality."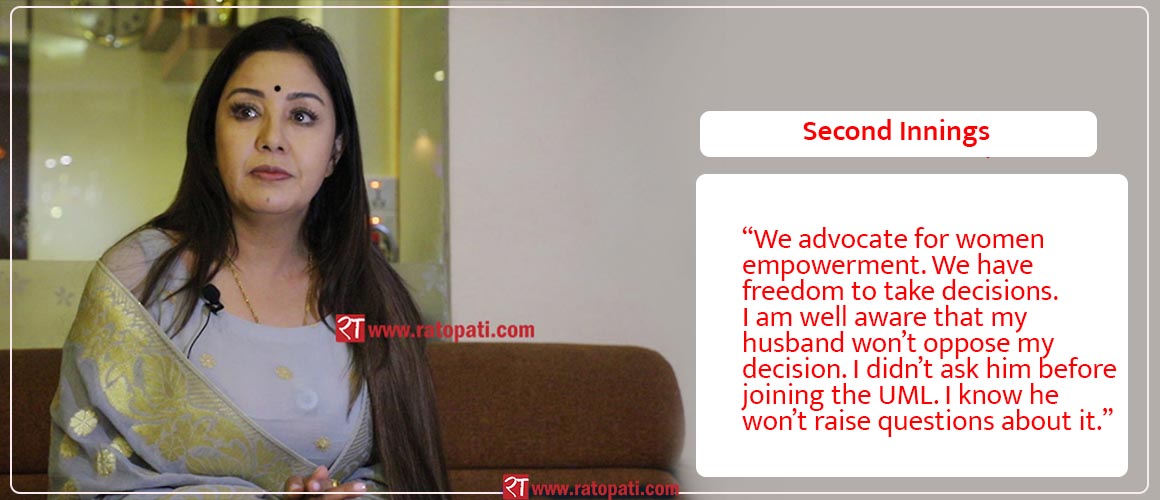 KATHMANDU, March 11: Actress Karishma Manandhar on Thursday joined the main opposition party, CPN-UML.
Prior to this, actress Manandhar was a member of former Prime Minister Babu Ram Bhattari-led the then Naya Shakti Party.
Ratopati has recently talked with Manandhar regarding her decision to join the UML:
What made you join the UML?
It is well known among the general public that I have interest in politics. I had also joined the Naya Shakti Party which went through a lot of ups and downs. I also had to spare time for my education as well. I left the party after it merged with another party. But, now I feel like it is an appropriate time for me to once again begin my political career and I found the CPN-UML as the best option to do so.
Are you aware that actor Bhuvan KC had also joined the UML but was not given opportunities?
I don't know about others. Once you join any party, you must do your best to make contributions and I am well aware about it. Party will definitely see your contributions. I believe that the party must understand that we are actors and assign tasks accordingly.
Komal Oli was granted an opportunity to be a member of the National Assembly soon after she joined the party. Have you been promised of any such opportunities?
I didn't join the UML to bargain. No one can demand a certain position in the party just after joining on the basis of their working fields. I am confident that UML will identify my abilities and assign accordingly.
You have joined UML at the time when the election is on our doorsteps. Are you planning to contest in the election?
I have thought about it so far and have no idea about the responsibilities that I will be assigned. If the party wants me to contest in the election, I will not refuse.
Nepali Congress is also a good party to start a political career, isn't it?
It is not that Nepali Congress and I share different ideology but here we are. I chose UML.
Earlier, you were with Babu Ram Bhattarai's party. Bhattarai is currently in Janata Samajbadi Party. You could have joined him. Why didn't you?
I always go for a fresh start. I have already experienced working with Bhattarai. There is no doubt that I got to learn a lot from him.
UML was recently ousted from power and it doesn't have a good image among people. No?
As of present scenario, no party has a good image among people. In comparison to others, UML seems better in my personal opinion. In our country, it has been in practice from years that we see good in ours and bad in others.
What do you think of KP Oli?
I am very much influenced by his personality. Oli is well-learned, practical, social and knows about actors well. I am always influenced by well-learned people.
In your words, you left politics to continue your education. Now, you are back in politics once again. Will it not harm your education?
I was in school then. It was mandatory to attend every class. Now, I am in college and it is enough for me if I just go to college three to four days a week. So, it won't.
Were you approached by some other parties too?
Many of my mates are in various parties and it is obvious that they asked me to join them. On my part, I told them that I follow different thoughts and ideology. Everyone wants a good person to join them.