Ukraine crisis: Don't create panic, Zelensky tells West
Ukraine's President Volodymyr Zelensky has called on the West not to create panic amid the build-up of Russian troops on his country's borders.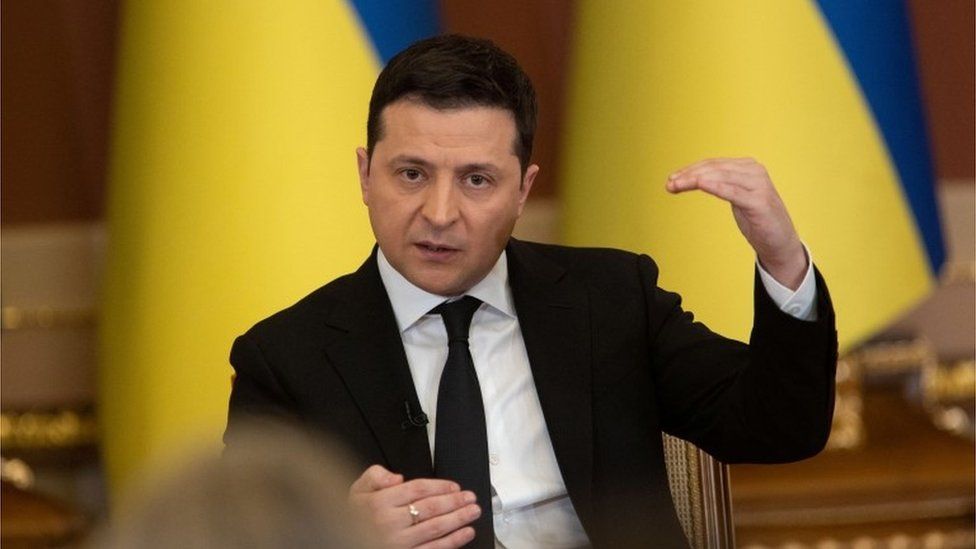 JAN 29: Ukraine's President Volodymyr Zelensky told reporters that warnings of an imminent invasion were putting Ukraine's economy at risk.
On Thursday, US President Joe Biden said he believed Russia could attack its neighbour next month.
Russia, however, denies it is planning to invade and on Friday its foreign minister said Moscow did not want war.
While Russia has about 100,000 troops on Ukraine's borders, Mr Zelensky said he did not see a greater threat now than during a similar massing of troops last spring.
"There are signals even from respected leaders of states, they just say that tomorrow there will be war. This is panic - how much does it cost for our state?" he told the press conference in Kyiv.
'No decision made'
On Friday, US Defence Secretary Lloyd Austin said Russia had amassed enough military capacity to attack Ukraine.
He said the US was committed to helping Ukraine defend itself, including by providing more weaponry.
"Conflict is not inevitable. There is still time and space for diplomacy," Mr Austin said.
Meanwhile the head of Germany's foreign intelligence service said Russia was prepared to attack Ukraine, but had not yet decided whether to do so.
"I believe that the decision to attack has not yet been made," Bruno Kahl told Reuters.
Russia last month made wide-ranging security demands from the West, including that:
1) Ukraine should be barred from joining Nato
2) Nato should end military activity in eastern Europe, pulling troops out of Poland and the Baltic republics of Estonia, Latvia and Lithuania
3) The alliance should not deploy missiles in countries near or bordering Russia
The US and Nato responded by saying Ukraine had the right to choose its own allies but offered Russia talks on missile placements and other issues.
If Russia were to invade Ukraine, it would not be the first time.
Russia annexed Ukraine's southern Crimea peninsula in 2014. It is also backing rebels who seized large swathes of the eastern Donbas region soon afterwards, and some 14,000 people have died in fighting there.