"We are excited to render medical care to VIPs and VVIPs within country" - Senior cardiologist Dr Bhagawan Koirala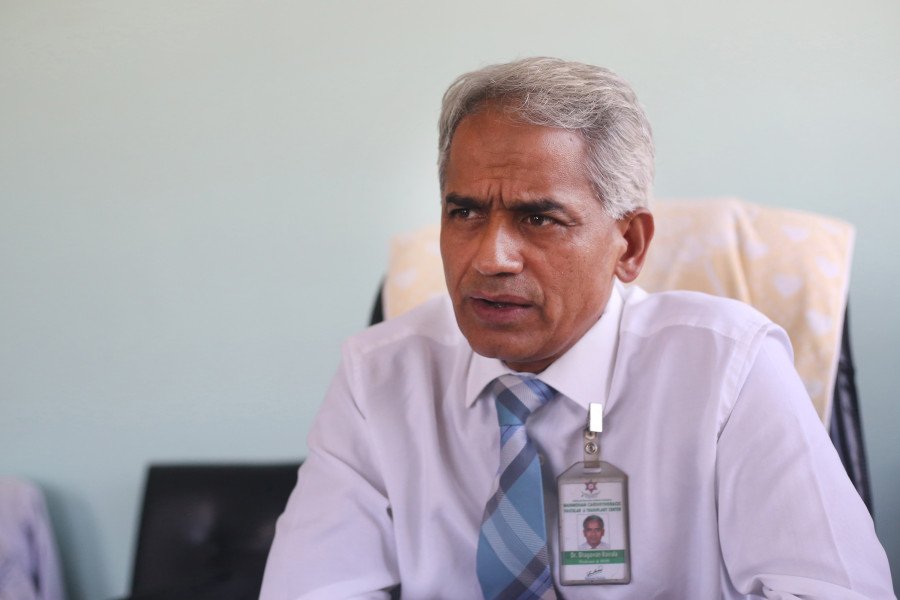 KATHMANDU, Aug 9: Dr Bhagawan Koirala is a household name in Nepal. For those who have got a new lease of life through his medical treatment, he is akin to God, as his name stands for.
The public of Nepal has a lot of confidence in and high regard for him for making the treatment of heart diseases very reliable and trustworthy in Nepal.
Not only does he possess thematic expertise, the celebrated cardiologist too has a heart of gold as he has facilitated the free treatment of heart disease for thousands of impoverished patients of all different age groups.
Best known for leading the team of Nepalese surgeons that successfully conducted open-heart surgery in Nepal for the first time, the sexagenarian surgeon during his three-decade-long career has conducted over 14,000 heart surgeries thereby giving them a new lease of life.
He penned a book named 'Hridaya'(Heart) and launched it in the market some time ago. The book became a best-seller in no time. The book encapsulates Dr Koirala's stories of struggle and success, the solutions to the problems prevailing in the health sector as seen by him and analytical views on various issues plaguing medical education in the country.
After reading the book which vividly portrays the challenges and possibilities in the health sector of Nepal, one comes to know of his managerial qualities besides being acquainted with the stories of a dedicated, diligent and honest surgeon.
Dr Koirala's working style- completing a task at any cost after commencing it, could be an example to anyone in any sector.
He is a member of a specialized medical committee formed recently by the Ministry of Health and Population to provide healthcare services to VVIPs and VIPs within the country.
Here are the excerpts of the interview RSS Feature Chief Krishna Adhikari conducted with senior cardiothoracic surgeon, professor and social worker, Dr Koirala.
Q: The number of heart patients is increasing in Nepal lately. What are the main reasons for this?
A: Indeed, the number of heart patients is increasing in Nepal. An unhealthy lifestyle and an unbalanced diet are the leading causes.
Although cases of communicable diseases such as tuberculosis, malaria and diarrhoea were decreasing in the country, a number of incommunicable ailments such as heart disease are on the rise.
With the increase in the average life expectancy of Nepalese, the prevalence of incommunicable diseases also grew. The heart-related complications detected among the youth in recent times are largely due to unhealthy lifestyles and unbalanced diets.
Q: What kind of attention one has to pay to prevent heart disease?
A: Some of the causes of heart disease such as age, gender and genetics are not under our control. However, most of the risk reduction is in our hands. Heart disease can be prevented by avoiding cigarettes and alcohol, lifestyle changes, exercising regularly and reducing obesity among others.
Air pollution is also known to increase the risk of heart disease and other ailments. Lack of timely diagnosis and treatment and utter negligence to the treatment that could be done on time among others aggravate the problems later.
If the children having throat problems are not treated on time, they develop were found to have developed heart-related complications later.
If people exercise spiritual practice and increase the habit of doing yoga and meditation regularly, it will automatically generate positive energy which thereafter helps to prevent any complicated health problems including heart.
Q: How can heart disease treatment services be made accessible to all common Nepalese?
A: Since getting healthcare services is a fundamental right for any citizen, it is necessary to ensure everyone's access to healthcare services. Some healthcare services need to be decentralized to take it to the local level while others could be brought to the centre or major urban areas.
Health services that could detect heart disease at an early stage could be decentralized from the district hospitals to the local level health centres. Likewise, the specialized service could be expanded to major cities.
At present, all sorts of heart disease treatment services are available at the Shahid Gangalal National Heart Centre and the Manmohan Cardiothoracic Vascular and Transplant Centre in Kathmandu.
The service initiated in the Bir Hospital in the 1980s and interrupted in between has been resumed. Quality heart disease treatment services are being rendered in Chitwan, Pokhara, Butwal, Nepalgunj, Birgunj, Dharan, Biratnagar and Jhapa districts.
Q: What is the quality of Nepal's heart disease treatment service like compared to other countries in the world?
A: The treatment services for heart diseases in Nepal cannot be considered weak or substandard in comparison to other countries of the world. There is certainly a lack of technology compared to rich countries but the Nepalese surgeons are no less competent than those of them there.
There is availability of treatment services including surgery needed by the general people in Nepal. The Shahid Gangalal National Heart Centre has been transformed into an important hospital in the country. Likewise, the Manmohan Cardiothoracic Vascular and Transplant Centre is also equally effective.
Q: The Kathmandu Institute of Child Health (KIOCH) is being established in your initiative. What prompted you to establish such a hospital?
A: Children's health should be viewed holistically, not just as a treatment of the heart. We reached this conclusion after a wide-breath of experiences in the health sector.
I felt the need for super-speciality hospitality for the treatment of children in Nepal after seeing the pain suffered by many children in the lack of money and access to proper treatment facilities on time.
To address that dearth of dedicated and decentralized healthcare service centres for children, I made a plan to construct a Hospital so that no child should lose their life in lack of money or lack of technology or lack of access to medical treatment.
A dedicated hospital like Kanti Children's Hospital ought to decentralize its services but owing to various reasons, it could not implement the decentralization of the services.
Hence, we are establishing a specialized children's hospital (KIOCH) in Kathmandu with seven satellite centres in all seven provinces in support of the government of Nepal.
Here, those who cannot pay the fee are provided treatment free of cost. The first provincial branch of the Hospital is already operative in Jhapa district.
Q: How did the desire to establish a hospital arise?
A: Out of every 100 children born in Nepal, 3 to 4 do not see their fifth birthday. Those children lost their life because they were bereft of basic health services and specialized treatment on time.
The lack of specialized hospitals for children in Nepal was a cause of concern for me. The desire to establish a children's hospital arose in me to fulfil the lack of specialized hospitals for children and no child should die prematurely due to lack of money, services and access to treatment.
Q: The incumbent government has recently formed a specialized medical committee including you to provide healthcare services to the VVIPs and VIPs within the country. What's your take on it?
A: While the government is improving the quality of healthcare facilities and rendering quality healthcare services, the committee was formed acknowledging the scenario that a large amount of money was being spent abroad for the treatment of VVIPs and VIPs annually and they do not seem to have confidence over the healthcare providers and services within the country.
The formation of a committee certainly has sent a positive message to the public. But it is also necessary to widespread the message that this kind of healthcare services are not only provided to the VVIPs and VIPs, the public also gets such services at home.
How feasible is it to provide such services from a single (Bir) Hospital? We need to take into consideration the wishes of VVIPs and pragmatic aspects as well.
Treatment could be provided from all major hospitals across the country by preparing procedures for forming a group of specialized doctors, for the management of treatment according to specialized medicinal methods and processes.
We doctors are excited and happy because when we provide medical treatment to the VVIPs and VIPs at home, it helps save state coffers and build up and increase the public's confidence in doctors.
Q: Your book named 'Hridaya' was published some time ago. How did you get the motivation to write and publish the book?
A: Upon the completion of my study, I got the opportunity to work in various health institutions in various capacities. In the book, I have illustrated how much suffering or ordeal one has to endure to establish healthcare centres providing complex and risky healthcare services.
I have put forth analytical views on the ways to solve the problems prevailing in the health sector and medical education sectors. The book is a recollection of countless memories of stress, struggle and restlessness as well as funny anecdotes and success stories in my career spanning over 30 years.
The book aims to give a message that anyone could solve any problem and attain success if one is committed to one's cause.