DECODING THE KERALA STORY: A HINDUTVA PROPAGANDA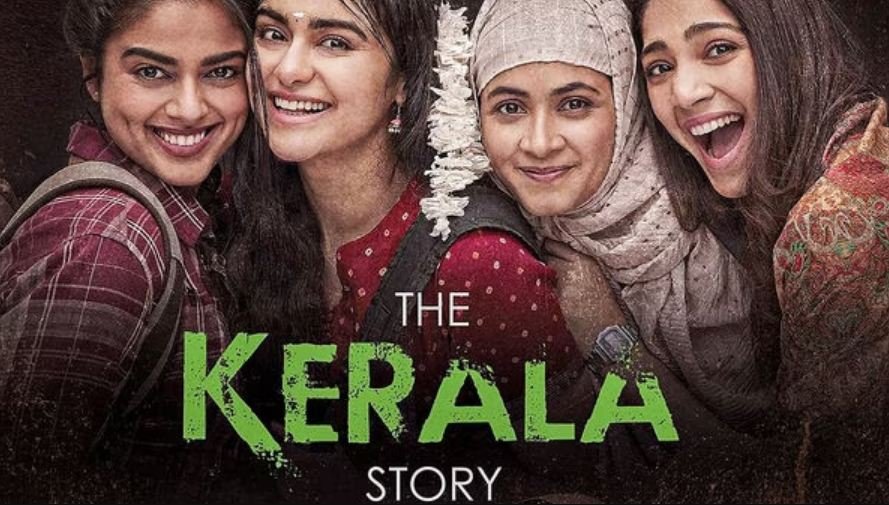 Adah Sharma-starrer 'The Kerala Story' ever since its teaser release in late April, finds itself at the centre of controversy. The film themed on religious conversion and the so-called Love Jihad initially claimed to tell the true story of 32,000 Hindu and Christian women who have joined the Islamic State (IS) so far.
Since its release on 5th May, the film playing with the emotions of the majority of Hindus has earned a sum of more than 80 crores within a week. The movie has been factually criticized as well as praised by multiple political leaders. Bharatiya Janta Party (BJP) ruling states such as Uttar Pradesh and Madhya Pradesh have made it tax-free contrary to banning it in other states accusing it of demonizing Muslims and Islamophobia. Several News agencies in their review concluded it to be a poor one. One even wrote that 'thought about Islam and religious conversions seem to have been sourced from hate-filled WhatsApp groups'- often alleged as WhatsApp University.
Contrary to its 32,000 claims, Fact-checking website Alt News in a detailed report exposed and concluded that there was the claim of 32,000 women was fallacious. According to US Department's 'Country Report on Terrorism 2020', there were a total of "66 Known Indian-origin Fighters affiliated" with the IS as of November 2020. Similarly, The Indian Express in November 2021 reported that India's National Investigation Agency in September 2021 press released the arrest of total of 168 people in connection with terror attacks, conspiracy, and funding inspired by IS's Ideology in India. The Observer Research Foundation, a renowned think tank, in 2019 published a document titled 'The Islamic State in India's Kerala: A Primer' which stated that the number of pro-IS reports in India from 2014 to 2018 is between 180-200.
Movie Plot-Hatred at Peak
The movie revolves around the story of Shalini Unnikrishnan, a Hindu woman who converted to Islam and ends up as an ISIS terrorist in Afghanistan. Shalini Unnikrishnan, an innocent girl from the Hindu-majority district of Thiruvananthapuram, with a pursuit of a nursing degree, goes to a Muslim-run college in the Muslim-majority district of Kasaragod. She there meets a Christian girl Nima (Yogita Bihani), Geethanjali (Siddhi Idani), the daughter of a communist father, and Asifa (Sonia Balani), a Muslim woman who conspires for their religious conversions.
Slowly Asifa begins her plan to indoctrinate her friends by 'tricking' them into joining Islam. This movie portrays these girls, Shalini in particular as innocent lambs being led to slaughter. In this movie, girls are portrayed as clueless about the basic tenets of their religion. Not surprisingly, Director Sudipto Sen shows a scene in which Asifa says- How would you worship somebody (Shiva) as a god who would cry as a common man on his wife's death? It is impossible for any individual to not retaliate if something is said against their religion. But this movie clearly shows that those three girls are happily and easily brainwashed- a nightmare.
The way Asifa Brainwashes them is illogical and seems not rational for a common man. When Asifa tells them about the concept of Hellfire, it is really surprising to see Shalini so surprised by the concept of hellfire. How can Hindu women not even know that the concept of Heaven and Hell exist in Hinduism as well? In the meantime, Geetanjali says that her father is an atheist who believes- 'Religion is an opium to the people'. Asifa in return says that her father is a communist and this is all the politics of communists. This is exactly what the sangha Parivar understands of ideology about communism. Sangh Parivar finds no differences between atheism and communism.
Shalini is then tricked into marrying a stranger Ishak (Christian-converted Muslim) after her boyfriend flies away when he founds out, she's expecting their child. It is not reasonable for a mature girl like Shalini to simply marry a man whom she has never met prior. The film isn't interested in the ways and how Ishak Converted to Islam. The focus is primarily on women, who are portrayed as innocent lambs, about to slaughter. This is because they want to put forward Sangh Parivar propaganda of 'Love Jihad'-merely a political tool of communal polarization.
Every Muslim character is evil, enters to menacing background music, there is no wilful conversion and the interfaith love is always with evil motives. The film has nothing in it other than love jihad, religious extremism, and women's violence. This movie has also Slammed Communism. Geetanjali expresses her grief to her communist father for not teaching her own culture and tradition instead of foreign philosophers' ideas. The Nursing Colleges have pictures of Marx and Lenin similar to Jawaharlal Nehru University (JNU) in Vivek Agnihotri's The Kashmir Files. In the end, the disclaimer itself the movie is propaganda which claims that a website they were directed to in reply to their RTI doesn't exist. But it does.
Bharatiya Janta Party (BJP), a sister wing of RSS has been successful in northern India by creating communal polarization targeting non-Hindus, Muslims in particular as alien and threat to India. Through this movie they have tried to cater to the highly popular Hindu Right-wing refrain of 'Hindus are in danger' in the multi-cultural state of Kerala as an opportunity to make inroads into Kerala.
The Kerala Story and Karnataka Elections Nexus
The Kerala story got released only five days prior to Karnataka Legislative Assembly Elections, which were to be held on 10th May 2023.
Karnataka is the only south Indian state where BJP had been in power. The BJP's Hindutva politics rose in north India only after Gujarat Riots in 2002, under the chief Ministership of Narendra Modi. BJP took Gujarat Model (Hindu-Muslim Polarization, Love Jihad, 'Hindu Khatre Mein Hain') into other states of North India and has been in power since 2014. However, BJP had not been able to mark its way in South India. In the 2018 Karnataka Legislative Assembly election, BJP with a total of 104 seats out of 224 seats came into power for the first time in south India. Since then, it had been trying to make Karnataka the "Gujarat" of south India. But the South didn't favour their motives.
The exit polls clearly showed the majority win for Indian National Congress in the 2023 Karnataka Assembly elections. With this BJP had no other choice than to play its traditional Hindu-Muslim Card. Narendra Modi and his party workers publicly endorsed the Kerala story in their election rallies, but this went in vain. The Indian National Congress has regained its power winning 135 out of 224 seats in the Karnataka Assembly election.
In the end, The Kerala story seems to accompany the new era of the Hindutva Propaganda factory. If this pattern continues, what is left to be seen is the ethnic cleansing of Muslims like Jews in Germany.